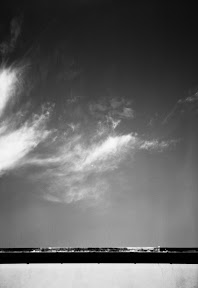 Because I do two shows on photography, and because I'm a very curious person, I keep close tabs on a lot of the things that go on in photography. Every day something new happens, something gets invented, something becomes popular or disappears back into obscurity. Remember the disposable flash bulb? Remember the Kodak Disc? Photography is very much alive. It has always been. Some trends will only be of interest to a select few, some will gain wider interest and some even become so well known, that you see them being used over and over.
An example? HDR became pretty hip pretty fast back when HDR processing software Photomatix was released, especially when used in the form of a way-over-the-top effect. Now, several years later, I see more and more people using it the way it was originally meant to be used: to subtly increase the dynamic range of an image. Another example? The tilt effect (also often mistakenly referred to as the tilt/shift effect) that allows you to make regular scenes look like miniatures is one of those trending examples. It has been around forever, but it only became popular a few years ago. And it already is beginning to look somewhat old and dated.
It's easy to look at these trends as unrelated events, but the sheer amount of interesting things that have popped up over the last few years makes me believe that we are actually at the beginning of a fundamental shift in how the medium of photography is perceived and how it's being used in more creative ways than ever.
The Analog Clean Room
Some of us, myself included, come from a film SLR background where it was crucial to get the best, the slickest and most reproducible results. Good glass and technique helped to make sure you didn't end up with any unwanted vignetting, and it was a sign of quality of your equipment and work if you pictures had the desired level of sharpness and contrast next to a good composition. Cropping was done when enlarging photos, but it was less practical when shooting slide film, unless you used my method of cropping the slides by sticking black electrical tape on them.
The Digital Clean Room
Then all of a sudden digital was there, and even though I gave up a lot of control, my first two mega pixel camera with its tiny sensor, its from today's perspective horrible dynamic range, and the overprocessed JPG images that it produced - JPG was the only choice - even with all that, there was something magical about the instant feedback and the possibility to try as often as I liked to get the desired result. The first DSLR followed a while later and it gave me back control. And perfection. Overexposed? Correct and shoot again. Got the framing wrong? Move the camera, shoot again. White balance off? Fix in post. Almost like a computer game where you have an infinite amount of lives. Died during the boss fight? Try again. And again.
Spray and Pray
There are a lot of situations where the
spray and pray
approach is the only one that will allow you to get the exact result you want. There are a lot of jobs and situations where digital is the only way to go, and I love to be able to quickly grab the camera, take a 21 mega pixel picture and post it online before an analog photographer can even get the film to the lab.
But if you take a look beyond that, you are bound to realize that for more and more photographers the digital way is becoming less and less satisfying. And I'm not even speaking of the massive backlog of pictures un-dealt with that more and more photographers fight.
Imperfections
Thanks to the fact that Lightroom, Aperture and other photography software allowed us to move the vignetting slider in both directions, a lot of photographers started to add vignettes to their pictures as opposed to removing them. Artificial grain was added to make digital black and white images more moody, more analog looking, and to bring back some of the overall grittiness that the analog world used to have. In fact my hard drive still hosts a high-res scan of a gray medium format slide, that I used to overlay on some of my pictures in Photoshop.
Lenses With Flavor
Now we have Hipstamatic, Camera Bag, The Best Camera, Lo-Mob and more. These are iPhone apps that simulate an analog look, and you find a lot of them on other platforms too.
When it comes to your DSLR, you can buy creative lenses like the Lensbaby, the Subjektiv, the Dreamagon, adapters to use a Holga plastic lens on your Nikon D700, or even stereo lenses, all optical ways to turn your camera into something entirely different. Ever shot with a zone plate instead of a regular lens? How about a pinhole? The sometimes not very predictable results that those lenses give you, make it really exciting to finally look at the pictures on your computer and be delighted with the imperfections that they add to your photography. Without using a single digital filter.
The Music World
In my other life I produce audio, and I can't help noticing big analogies between photography and the field of sound. Audio went digital quite a bit earlier than photography did, and I suspect a bit of a parallel development (pun not intended). Back in the 1980s, when the CD came out and everything in the production world all of a sudden turned digital, a lot of productions started to sport a very clean and almost analytical sound. Drum tracks turned very sterile thanks to clean quantization, removing the flawed human element. And the loss of that often went hand in hand with the loss of emotion. Consequently it didn't take the drum machine manufacturers long to introduce humanizer circuits into their boxes to get some of the feeling back. And the clean and digitally recorded sound ended up being fed through digital algorithms that simulated the warm sounding distortions of analog tubes and tape machines.
Hipstamatic anyone? I'm actually surprised neither Canon nor Nikon have introduced any effective "make it dirty" sliders in their DSLRs yet.
Today with audio,I do the same many other producers do: I add dirt by running my microphone through an amplifier that uses an actual analog tube. I do that because neither have I found an equally good sounding digital version of analog tube distortion, nor am I patient enough to spend the time it takes my computer to make all the intricate calculations to add those fake distortions. This is simply more authentic and faster. Many music producers still (or again) record certain things on actual tape machines, because the punch their productions get through the tape saturation is unparalleled in the digital world. Analog is alive and kicking in the music business.
The Right Tool For The Job
There's a really interesting shift happening in photography too, and I believe it goes beyond being a fad, beyond being a trend that will have disappeared again a year from now. At least for their creative expression, a growing amount of digital photographers is moving (back) into analog photography, and away from the clinically perfect digital world. Why? Maybe because
digital photography makes you unhappy
? Maybe because it is missing some of the human element? Maybe because it allows you to re-introduce a certain amount of randomness back into your art? Maybe even because photographers are too impatient to spend all the time and effort (and in case of expensive digital filters the money) to re-create a digital version of their beloved Ilford HP5+ pushed to ISO1600. Actual Ilford HP5+ pushed to ISO1600 simply does a better job. And a more authentic one at that. And if you still feel like playing, there's always the hybrid approach where you scan your negatives and continue working on them in the digital realm.
We Want Our Flaws Back It Seems
We have all seen a lot of perfect, we have been marinated left and right in crisp, noise-free and predictable digital photography. It almost seems, people want the flaws back. And that clearly shows in a lot of developments (sorry, douldn't resist). Look at all the creative films that you can get today. Some of my favorites are the Rollei Crossbird (a slide film that has been made to work really well in cross processing), the Redbird (a red-scale film that has the color emulsion reversed, resulting in some intense red color cast), and even the Fuji Astia 100F 100F slide film, which produces
some pretty intense results
when processed in negative film chemistry instead of its intended slide film soup. Cross processing gives you results that are somewhat unexpected, results that you probably wouldn't have achieved (or even tried) in digital, that's how different they can look. But nevertheless results that are much more likely to make you come back and look at these pictures for a second time.
The Trust in Chance
Instead of fully controlling every aspect of their work, more and more photographers deliberately introduce elements into their workflow that are hard to reproduce exactly the same way. Look for instance at some of the instant film materials you can get through the Impossible Project at the moment. Predictable results? Hardly. Or look at double exposures. Taken by different photographers. Did you know you can buy exposed film on eBay to add your own second layer of exposures, then develop it to find out what you've got? What an element of surprise! Some deliberately shoot film that is far beyond its best-before date and take advantage of the interesting characteristics some aging film materials get. Some expose the whole 35mm film, including the sprocket holes, and some even partially remove the lenses from their cameras and tilt them to achieve effects similar to lensbabies and tilt lenses - that's called "freelensing". Or the deliberate manipulation of the medium, as seen in the emulsion lift, where integral instant film is taken apart and the photo emulsion gets transferred onto a different material.
Innumerable interesting and important developments that define a new style and even more important, a new approach to photography that is much more playful and unpredictable than anything else in photography has been for many decades.
Photography goes far beyond the clean and perfect results that our 24 megapixel DSLRs and our impressive L-class lenses will give us. And even if you don't want to take a step into the analog world and instead opt to use Hipstamatic or Camera Bag on your iPhone's digital camera, at least you give the random element some level of chance.
And maybe, after a while, you're ready to spend twenty bucks on eBay for a used old brownie, you load it with a roll of 120 slide film, you shoot some fun pictures, then you drop the film off at the next drug store with the note "please develop this slide film using the C41 negative process" - and after a few days, you'll get to enjoy the prints of your first batch of cross-processed pictures ever.